Through a special design, NewOne UHF card has a reading range of up to 33 feet, because we have solved the problem of UHF susceptibility to interference, and can maintain its stable performance even in difficult environments. Over the years, we have established pleasant and lasting partnerships with many system suppliers to help them deliver customized projects on time and on budget.
860-960MHz UHF Higgs 3 RFID Card has a very long sensing distance and is widely used in access control, automobile management and other industries. If you want to know more, please contact us.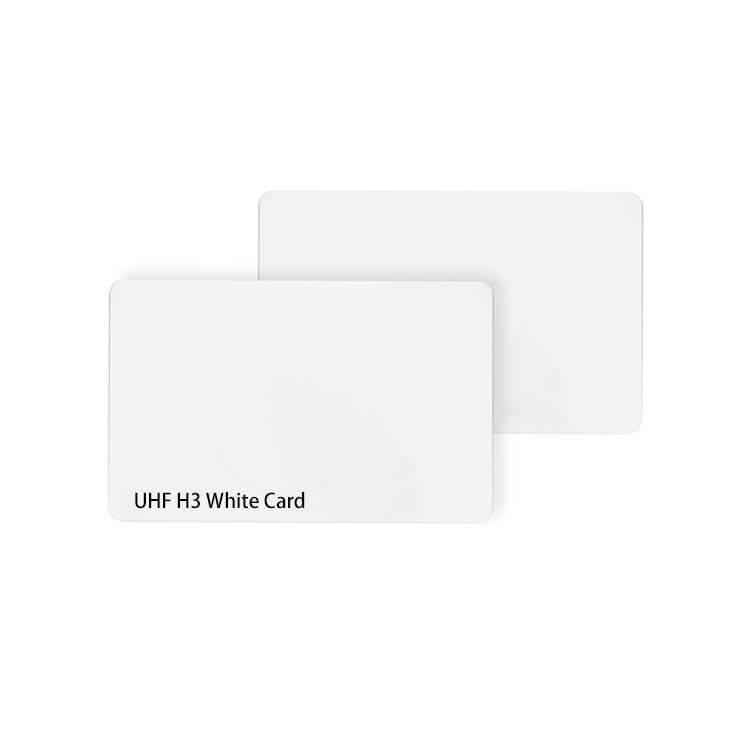 Cheap Blank White UHF H3 Smart Card ISO18000-6C
Alien H3 has more storage capacity, including a 96-480 bit EPC and a 512-bit user storage area, which can provide enough flexibility for local storage or large-bit EPC. It uses a unique "fingerprint" that cannot be digital cloned, increasing the security of the chip and actually eliminating the clone label in anti-counterfeiting and high-priced product applications.
Frequently Asked Questions About RFID Card
An RFID card refers to an identification badge/ credit card designed to transfer data to an RFID interrogator. The card contains an RFID tag with sufficient memory to capture valid cardholder's information. Also, the RFID card can be made from different materials, including plastic and PVC. 
RFID card is a packaging form of RFID Tag in an RFID system.RFID uses radio waves to accomplish this task. Simply put, an RFID system consists of three components: RFID tags or smart tags, RFID readers, and antennas. The RFID tag contains an integrated circuit and an antenna, and the RFID reader provides energy to the RFID tag for wireless data exchange.
What are the different types of RFID Cards?
RFID cards include low frequency cards, high frequency cards and UHF frequency cards.
What is the RFID card used for?
RFID cards are widely used in access control management, hotel management, all-in-one card management, library management, membership management, student management, public transportation, parking management, etc.
How much does the RFID card cost?
There are many RFID cards with different chips and processes, and the price ranges from 10 cents to 55 dollars. It depends on the type of RFID card, the card's processing process, the number of orders, and other factors. If you want to buy some RFID cards, you can contact us. We will provide you with a reasonable quotation based on the RFID card you want.
| Frequency | RANGE |
| --- | --- |
| LF 120 – 140 kHz | Maximum read range 30 cm - Special Antenna and Tags - 2 meters |
| HF 13.56MHz | Maximum read range 1.5 M - Special Antenna and Tags - 2 meters |
| UHF 860-960MHz | Maximum read range 10 meters - Special Antenna and chips - 15 meters or more |
NewOne has focused on the production of RFID-related products for 12 years, with customers all over the world,Become our customer and give you the most professional support and service