Mifare 4K Cool RFID Key Fob
This RFID key fob has a very cool appearance and uses an NXP Mifare 4k chip.
MIFARE 4k storage memory is very large, and the chip security mechanism divides the memory into multiple areas, each of which can be used independently. This product series is ideal for large-volume transactions such as transportation ticketing, time and attendance solutions, parking lots, and loyalty programs.
2 options for these EM 125kHz Key FOBs:

Pre-Defined: The FOB comes with a pre-defined 10-digit ID programmed to the card
Writable: The FOB comes with no defined ID
The FOB will need to be assigned a custom 10-digit ID by the user

Small and exquisite, easy to use and sensitive
Customized Key Fob Size and Shape
100% High Quality and High Security
Double waterproof: glue covering and ultrasonic pressing
Variety of Styles and Colors to Choose From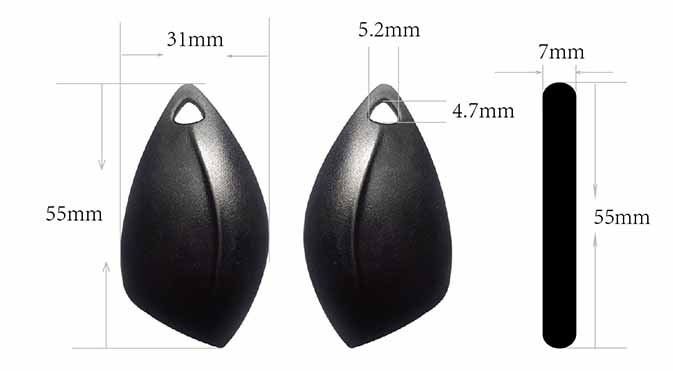 | Material | ABS/PC |
| --- | --- |
| Size | 55*31*7mm |
| Optional chip | EM4305,EM4200,MIFARE Classic 1K,   MIFARE Classic 4K, and MIFARE DESFire |
| Memory | Determined by the chip |
| Frequency | 125kHz,13.56MHz |
| Protocol | ISO11784/11785,ISO 14443A |
| Colour | Blue,Red,Black,etc. |
| Reading distance | 0-10cm |
| Working Temperature | -25°C to 65°C |
Replace access card
Member Management
 School canteen meal card
Frequently Asked Questions About RFID Keyfob
Radio-frequency identification (RFID) key fob is a package form of RFID tag, small, sturdy, convenient to carry, widely used in access control, all-in-one card, etc.
How do RFID key fobs work?
Smart keys work through RFID, a radio frequency identification system that uses electromagnetic fields to identify and track data on "tags" that contain stored information. Transmission through magnetic field and radio waves.