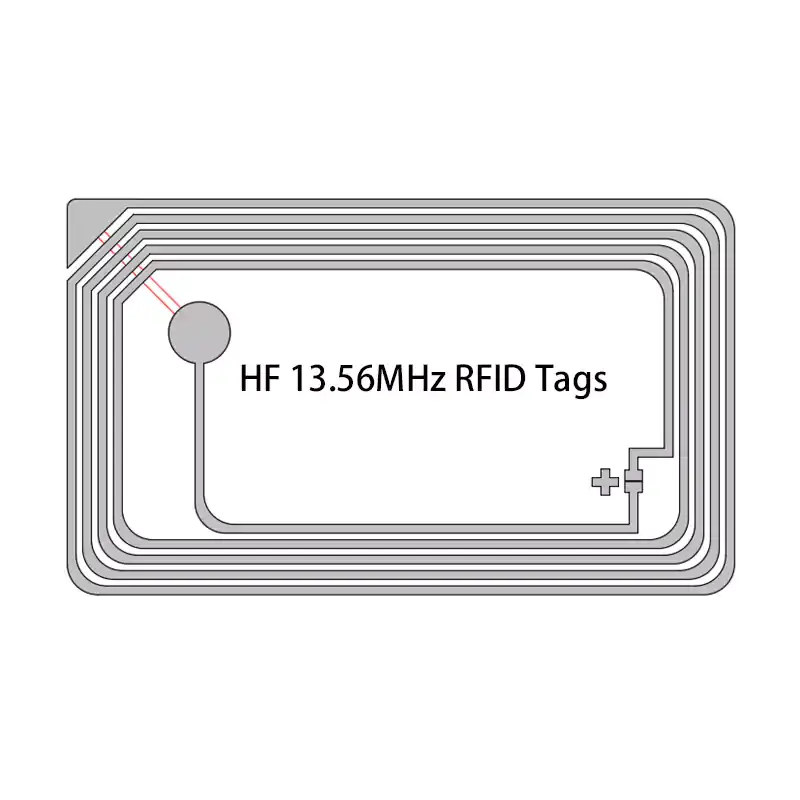 The 13.56 MHz tag was born to lower the RFID tags' rate and address high-volume applications with the high-frequency reader. At this frequency rate, a tag coil doesn't need to be made of hard copper wrappings. This coil could be a paper-like substructure or printed ink which has an EEPROM included in it. In the mid or late 1990s, the RFID 13.56 tags were the vogue technology that many technologists saw as a route to address the high quantity applications requiring a low cost of tags.
This high-frequency tag is available in various variants such as wrist band tags, metal tags, mount on metal tags, thin RFID cards, disc tags, passive RFID tags, waterproof tags, laundry tags, label tags, laundry tags, and round paper tags.
This tag supports the different rules such as ISO/IEC 14443 and ISO/IEC 14443A for Mifare, JIS X 6319-4 FeliCa for electronic payment cards and ISO 15693 for item tracking. The read range of this card is approx. 30 cm, which is around 12 inches. These tags are mostly NFC and Bluetooth compatible.
Features Of 13.56MHz RFID TAGS
Our RFID tags have diverse functions and features that are made for specific applications. No matter if your assets include clothing, livestock, blood samples, vehicles, laundry or even people, a specific tag made with the right features will allow you to track your assets correctly.
Every RFID tag is designed differently depending on the assets being tracked. Few RFUD tags are small to be used to track the items such as test tubes, while the large tags are attached to the shipping containers/vehicles and work as a transmitter to convey their locations endlessly. However, few Tags can endure the dangerous and extreme temperatures, while others are waterproof and rugged. Also, many RFIF tags are for single time use, and some are ecological, making them perfect for larger Internet of things applications.

Applications Of 13.56MHz RFID TAGS
This RFD tag can be used for all types of sensing applications and identification. The tag contains the data storage of 1K, which can be written and read from an RFID reader or compatible device. Such tags are mostly used to make payments, ticket, ID cards, library, asset tracking, gaming chips, logistics, factory mechanization, inventory control and security tenacities.

Customize 13.56MHz RFID TAGS
Available in different colors of your choice
Available in different dimension and sizes
The printing can be customized. You can choose from the handwritten and digital printing options.