In the current epidemic,fever is one of the most important symptom indicators of the new coronavirus, and temperature measurement has naturally become a key task in preventing the spread of the virus. Many schools have started to resume school; for schools, how to comprehensively carry out efficient temperature measurement to ensure the safety of teachers and students and the public health on campus is a problem that needs to be solved urgently. As we know ,Facing hundreds of students, the temperature measurement workload is large, time-consuming, labor-intensive and inefficient. Hence how to measure our temperature fastly and timely?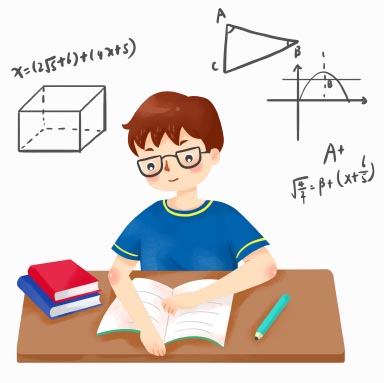 Is there a solution???
Can be monitored in real time, no one can escape
Continuous remote monitoring to avoid cross infectio n
Use lower labor costs to Control epidemic prevention
YH Real-time temperature monitoring system
Real-time monitoring Continuous tracking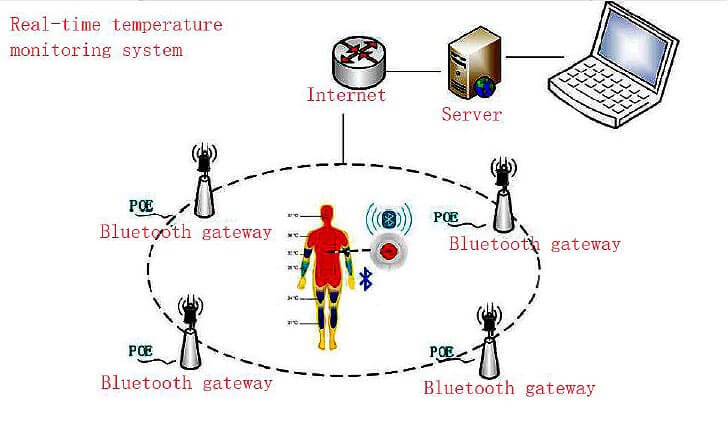 remote
monitoring
system composition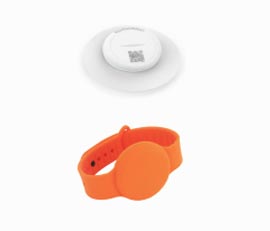 Body temperature dynamic detection
Body temperature stickers or temperature bracelets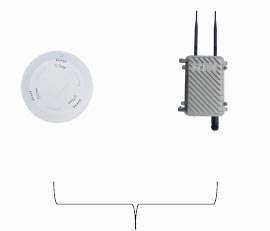 Data collection and upload
Indoor and outdoor bluetooth gateway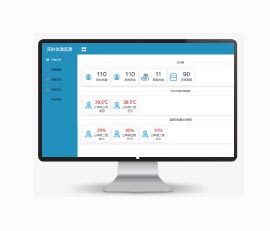 Real-time temperature monitoring
Remote monitoring platform
System principle:Continuously check the body temperature of students through temperature stickers (or temperature bracelets), And use the Bluetooth gateway to collect data concurrently and upload it to the cloud storage synchronously. Finally presented on the monitoring platform in numerical form, School administrators can remotely monitor the body temperature of the students on the platform.
Hardware-product features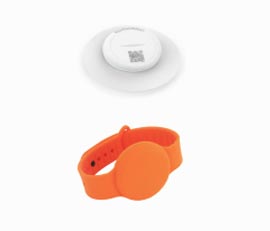 ① Adopt medical grade MAX30208 temperature sensor, clinical grade, measurement accuracy up to ± 0.1 ° C
② Low power consumption, the battery only needs to be replaced every six months
③ Waterproof Leverl : IP67 standard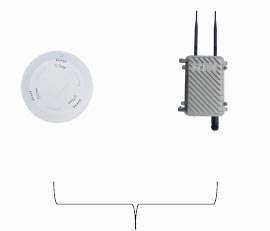 ① Support uplink and downlink data communication
② Low power consumption, low cost, small size, easy to deploy
③ Support 1 to many connections
④ Can be flexibly used in various scenarios
⑤ Wi-Fi rate can reach 100M, Bluetooth rate can reach 1Mbps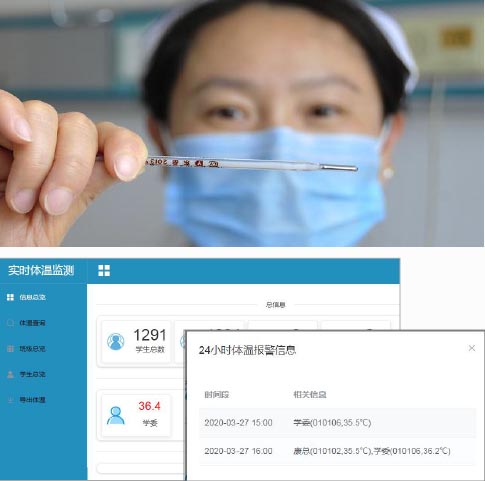 Body temperature stickers measurement
As accurate as a mercury thermometer
Body temperature stickers use medical grade
MAX30208 temperature sensor,Temperature
measurement accuracy is up to ± 0.1, which is as
accurate as mercury temperature measurement.
In addition, the result display is more intuitive on the platform
Mercury temperature measurement results are displayed in lines, which is both troublesome and time-consuming
The digital display of the body temperature stickers measurement results is more intuitive and clear.
Wear display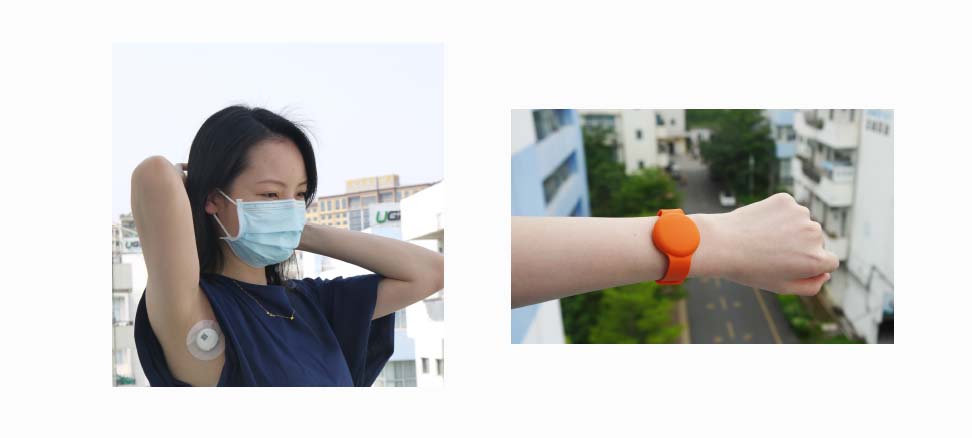 Notes:The body temperature patch is identical to the mainframe of the temperature bracelet; The difference between the two is only reflected in the way of wearing.
Real-time temperature monitoring system
Help the school easily prevent epidemic
High efficiency
The background monitors multiple devices simultaneously
24 hours of continuous monitoring
The temperature of boarding students is also tracked in real-time
Use remote monitoring
Avoid the risk of infection by temperature measurement personnel
Single-point temperature measurement + traditional handwritten data ineffective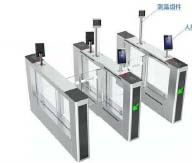 Door temperature measurement is not continuous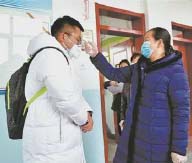 Close temperature measurement is easy to be infected
Futuer
Data accuracy and real-time
Real-time monitoring of body temperature, data is updated every 1 minute, and detection accuracy is up to ± 0.1 °, Real-time rendering in the background to assist rapid decision-making
Strong expandability
The system supports expansion and upgrade, and management functions such as attendance, positioning, and student health can be added
Safety and convenience
Support local deployment and cloud deployment, data security is more guaranteed
Rapid deployment
One campus (50 classes) can be deployed in 1 day
Loading capacity
The system can access more than 1000 Bluetooth gateways at the same time, and the terminal access volume is greater than 100,000
Fast response
Using Alibaba Cloud IoT cloud platform, The system response is fast and stable, and the data confidentiality is strong
Scalability
The platform can flexibly expand management functions, such as adding attendance management, score management, student health management, etc., and can be used for products such as bracelets and student id cards
System performance
Suitable for major scenes
School
Nursing home
Health club
Hospital
Gymnasium
Prison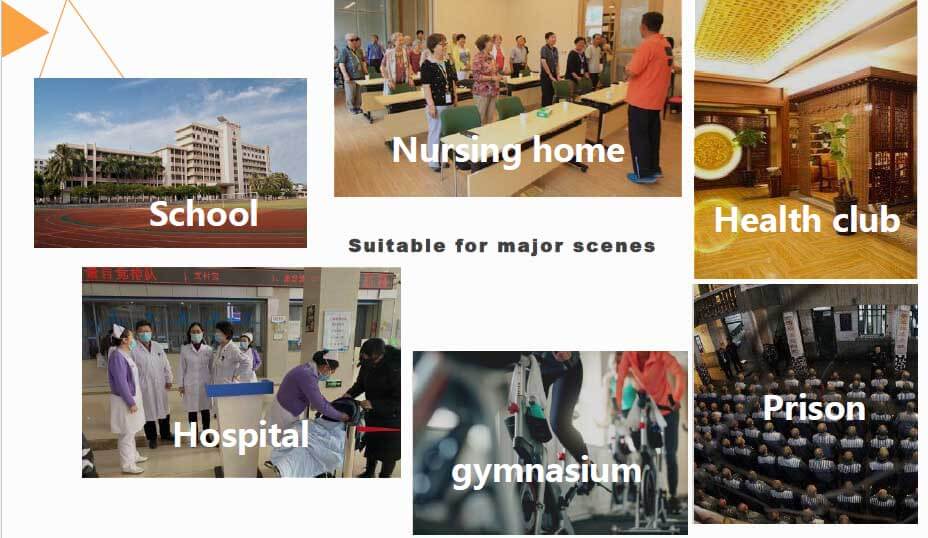 Related articles: